Staff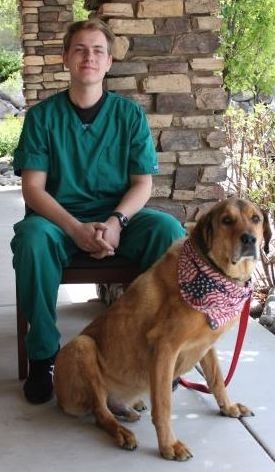 Forest, Licensed Veterinary Technician
Forest was born and raised right here in Reno, Nevada. He has been volunteering for, and working at, various animal shelters since 2009. His love for animals began when his family adopted their first senior pet from the local shelter when he was a little boy. Forest obtained his Nevada Veterinary Technician License in late 2018 after graduating from TMCC.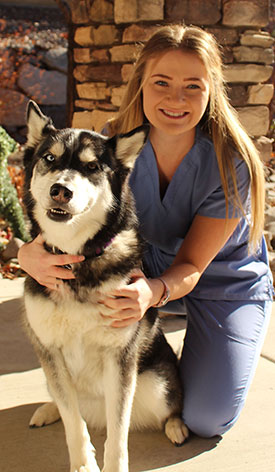 Courtney - Veterinary Technician in Training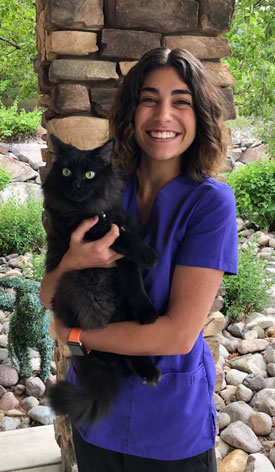 Tayla - Veterinary Technician in Training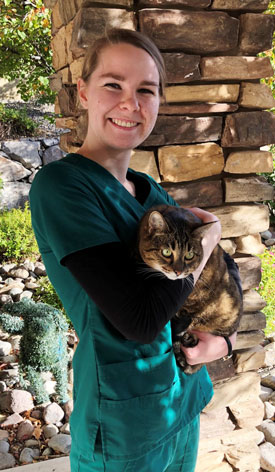 Kristen - Veterinary Technician in Training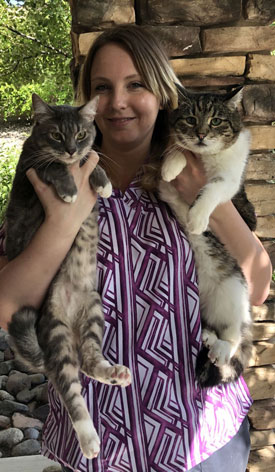 Patricia - Veterinary Assistant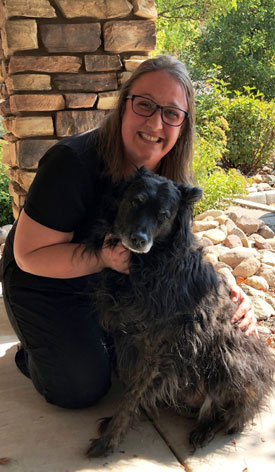 Tricia - Veterinary Receptionist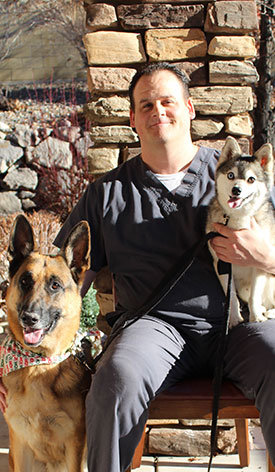 Ben Shindelus, LVT. Technician and Practice Manager
Ben was born and raised in the California Bay Area and moved up to Reno in the summer of 2004 where he quickly found himself a job in the veterinary field. As Ben grew professionally he attained his Veterinary Technician license in 2010. Ben developed an interest in Class IV laser therapy and its applications, and have been fortunate enough to treat several hundred patients over the last several years.

In his spare time Ben enjoys playing outdated computer games and spending time with his 2 dogs, Ash (an Alaskan Klee Kai) and Linux (a German Shepherd). Ben has a love of good craft beer and street festivals, both of which are never in short supply here in the Reno area!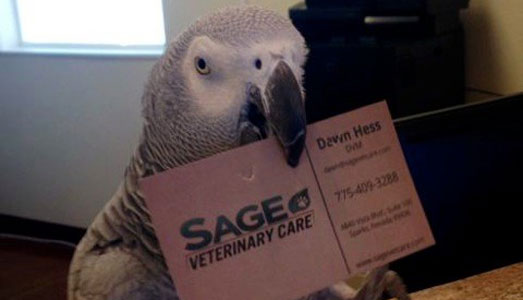 Murray, Client Greeter
Murray, the female African Grey Parrot, was born in 1994 in Indiana. She moved to NV in 2005 wit her family including Dr Dawn Hess. She has been the official greeter at Sage Veterinary Care since our opening in May 2014. You will usually see her in her enclosure in the waiting area . You will definitely hear her all over the practice chatting, cracking jokes, saying good bye, and imitating anything and everything. Did you know African Greys have an average vocabulary of 3,000 to 6,000 words? And although they do repeat things, they are not just mimicking sounds and words. Its like having a 7 year old child forever integrating information, learning, and exploring!